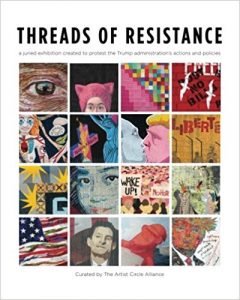 As the catalog for the touring exhibit Threads of Resistance came out recently (available at Amazon), I thought I'd give you a little background on my piece Liberty Marches that's included in the book and exhibit.
I heard about a call for fiber art started by a group of artists I really admire called The Artist Circle. Threads of Resistance was their idea for a touring exhibition of fiber art that reflects artists' viewpoints in response to the 45th president. I knew I wanted to participate.
Trying to process the results of the election and what that said to me about our country was a difficult time for me. A friend was trying to process her feelings as well and put her hopes and wishes for peace into a quilt. I decided I needed to do some art therapy as well, but was in too dark a place and couldn't think of an idea for a piece that I wanted to work on. And then came the Women's March on January 21st.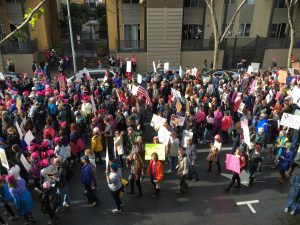 My husband Curt and I thought it was important to attend our local march. We connected up with groups of people we knew – people from up north that we had worked on a campaign with, friends and neighbors, fellow League of Women Voters members, quilting and museum friends. We were part of the 25,000 that marched in San Jose that day. It was a day filled with positive energy – peaceful, loving, and determined to advocate for civil liberties. I got home from the march and the ideas started to come!
Now, for the ridiculous part of creating anything – those unrelenting voices that tell you, "If it was a good idea, someone else will have already come up with it and will do it better than you ever could." I managed to just let the voices wail and "nevertheless,… persisted!"
I found a public domain image of the Statue of Liberty and then, after altering it slightly, used Photoshop to tattoo her with replications of over 100 Women's March signs that were carried around the world. I learned even more about Photoshop doing this project! Harking back to the skills we used in grammar school, the idea of weaving this image appealed to me from how it would look as well how it reflected on the meaning I was trying to convey.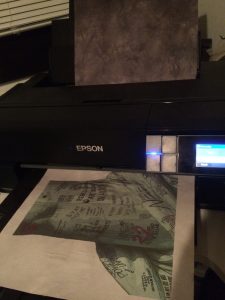 I had four shades of gray fabric in mind for the printing and when I went to treat the fabric to prepare it for printing, I discovered there wasn't anywhere close to the amount I needed. Argh!!! I whipped out the computer and did a search for gradient gray fabric, and in less than five minutes I found a gorgeous piece with the quantity I needed to print the image twice. I wanted it to be gray, both to refer to the gray winter morning on January 21st and to have her marching into the darkening sky. I found this piece dyed by Vicki Welsh that is perfection.
The printing was challenging this time as I had to try a new heavier freezer paper to stabilize the fabric due to the length of the strips I needed instead of the cardstock I normally use. After some frustrating attempts (and my husband's help) it worked.
A friend pointed me towards looking at some bargello quilts to get some ideas on cutting the widths of the strips to weave. A great idea! While looking nothing like a bargello quilt, varying the widths of the strips gave me the movement I needed in the finished piece.
To finish this off, here's the artist statement for Liberty Marches (also written with the help of my husband and a friend):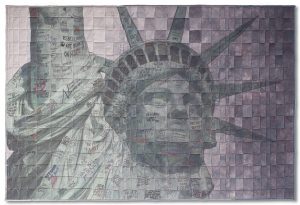 On January 21st, 2017 the Women's March took place around the world in protest of the character and policies of the 45th president of the United States of America. Women and men marched in support of many issues including liberty for all human beings.
 The symbol of our country's freedom commonly known as the Statue of Liberty is actually entitled Liberty Enlightening the World. Libertas carries a torch in her right hand lighting the way forward, a tablet in her left inscribed with the date of our declared independence, and a broken chain at her feet symbolizing abolition.
 I imagine her on January 21st wanting to march but knowing how much more important it is to hold high the symbols of freedom. She invites over 100 marchers from all over the world to make the signs they march with a part of her. Emblazoned with their words, she re-enlightens the world.
 We can help. The fabric of liberty is imperfectly woven together. Sometimes it frays and unravels and hangs by a thread. We can strengthen the cloth. Working together, marching together, we are liberty.
 Be sure to check out the tour dates and locations near you!