Her Right Foot and Voices in My Head (Not the Crazy Kind)
I'm currently in the process of trying to replace those negative voices in my head that tell me I can't do things and that I'm not good enough with those voices that will cheer me on…loudly! I recently had one of those moments when a friend cheered for me in such a moving way, I was reminded that she needs to be one of the primary voices in my head! Here's the story.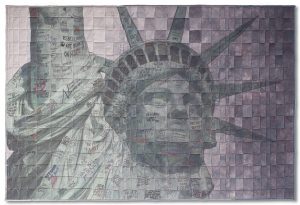 I've written before of my quilt Liberty Marches. It recently came to the Bay Area with the rest of the Threads of Resistance exhibit at the Pacific International Quilt Festival. A dear friend who is a fan of this quilt came to the show to see it in person as well as all the other quilts in the exhibit. We marched together at the San Jose Women's March so it is especially meaningful to both of us. She wanted to surprise me the next day with a trip to a bookstore for a book signing, but I was still working the quilt show and couldn't make it. The other morning at breakfast I was presented with a signed book, complete notes and photos from the book signing, along with a moving letter from her.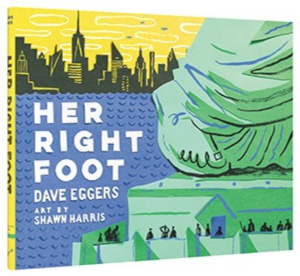 The book is freaking amazing and I highly encourage everyone within hearing distance to GO GET A COPY!!! It's a children's book entitled Her Right Foot by Dave Eggers with art by Shawn Harris. And, yes, it's about the Statue of Liberty!!!! I'm not sure I can adequately tell you how much I love this book!
What's even better is that is that both the author and artist signed the book telling me that my quilt was beautiful, inspiring, and incredible – kind of nice to hear, but my response was, "What did you do?" This lovely librarian friend went armed to the book signing with images and the write-up of my quilt for each of them as well as other copies "just in case" and handed out those, too.
Who does that? I'll tell you – someone who is passionate, supportive and loving! She promoted me the way she promotes a book or an author that she knows is special – by telling everyone she knows and giving the book to as many people as she can! She has a faith and a commitment to what moves her that is inspiring and I'm incredibly grateful for it! Not only for her support of me and my work, but, my God, she's turned me on to so many amazing books and authors!
Thank you, dear friend! You are now officially the leader of the voices in my head!