Wedding rings, dresses, and a tribute to jazz
The new exhibits are up at the San Jose Museum of Quilts and Textiles!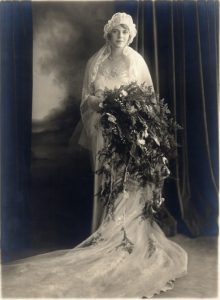 Over the last month or so, I've had the amazing opportunity to put in some volunteer hours at the museum helping with some behind the scenes work on preparing the exhibits. I got to see and participate in a small part of what it takes to accomplish the astonishing amount of work the curators and volunteers put in every time a museum exhibit changes. All I can say is how filled with awe and admiration I am for the people who consistently do this work! Such generosity of time given and such hard working individuals! I was so privileged to be part of this team!!! (Quite frankly, I'm not sure how they put up with me half the time.)
If you get the chance and are in the area, you really should get to the museum. The primary exhibit is Wedding Dress: Yesterday, Today and Tomorrow. There is clothing from the 1800s on, wedding clothing from other countries as well as some unconventional wedding items.
There is also a tremendous exhibit of Mike McNamara's very different wedding ring quilts and the stories behind them along with his mom's wedding dress (gorgeous).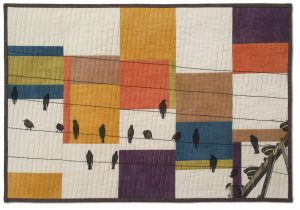 The other exhibit opening is Jazz Impressions that is running in conjunction with the San Jose Jazz Festival. The jazz inspired quilts on display were made by members of the Santa Clara Valley Quilt Association. I'm lucky enough to have two quilts in this exhibit.
This color block digitally printed quilt is called Zawinul's Birdland. Manhattan Transfer performed the song "Birdland" the first time I heard it. Once married, my husband introduced me to the original Weather Report version. Joe Zawinul wrote it as a tribute to the New York jazz club of the same name. "That club made such an impact on me," he said. "I met Miles there, and Duke Ellington and Louis Armstrong; I met my wife Maxine there. Everyone I worshipped I met at Birdland."
My second quilt is another digitally printed quilt that I talked about in my last post entitled God Is in the House.
Hope to see you at the museum!