It's a fact of life that when you start entering your artwork into challenges and shows you are inviting rejection as well as some potential good stuff. Well, I invited it and got rejected twice within a week! Now, the good news is I did get one quilt into the Houston quilt show and that does feel good but back to rejection.
I know clearly that rejection is part of the process. It does make the times you are accepted more worthy of note. It's a chance for mulling over the piece, examining how you really feel about the work, and an opportunity to ask yourself those questions that include could I or would I have done anything differently?
My first rejection of the week came from the Lion King challenge put on by Cherrywood Fabrics. I have to admit I knew that it wouldn't make the cut pretty much from the beginning but decided not to let that stop me. This really was an exercise in completion. I'm not sure why I made some of the decisions I did, but this quilt does not play to my strengths at all and really reflects very little of who I am as a quilter and artist. I chose to let it push me in different directions and, perhaps, that's why I like it – I know what a struggle I had getting to this point! It was my problem child!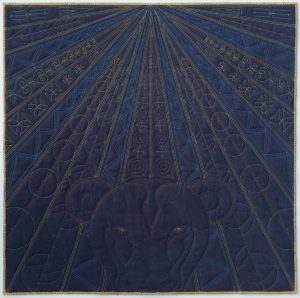 I also discovered that playing in this kind of challenge is not so much in my wheelhouse. I was given the four fabrics, the size, and subject matter and I reacted the way I did back in my past when I accepted a few jobs to make clothing for hire – I was given the fabric and the pattern and then dug in my heels and just felt resentful. It was now a chore. Resentful sewing is not fun! Also, the fact that I liked the back more than the front was probably a good indication of how I felt about the quilt!
The rejected quilt is called I See You. Growing up is difficult under the best of circumstances. The West African symbols quilted into the rays from the top to the center mean: persistently attempting the impossible, learning to listen and understand, having courage, learning from the past to fix mistakes, a lot of good luck, aiming high, and embracing change. Who we are, who we become is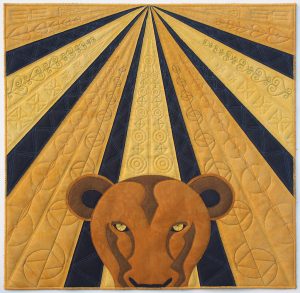 influenced by all these things. They lead us to our own personal greatness where we can see how we fit in the world and where others can see us for who we truly are.
Am I sorry I entered this? Absolutely not! What would I do differently? I would think a lot more and wait for some inspiration that felt right to me instead of forcing it as much as I did. Would I entertain the idea of participating again? You bet! I suppose the biggest question would be, would I let rejection stop me from quilting? The answer is a big, resounding no! As a dear friend said, "On to the next quilting adventure!"