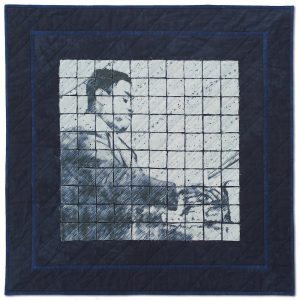 Just finished my latest quilt! It's one of two that I'm hoping will make it into the exhibit coming up in July at the San Jose Museum of Quilts and Textiles. The exhibit is being run to coincide with the San Jose Jazz Festival and is called Jazz Impressions. The show will be jazz inspired quilts made by members of the Santa Clara Valley Quilt Association, a group of 500+ quilt makers and enthusiasts.
The quilt is from a photograph taken by William Gottlieb of Art Tatum. Gottlieb was best known for his portraits of leading jazz musicians during the 1930's and 1940's taken during performances in various New York City jazz clubs. Upon his death, Gottlieb had his photographs put into the public domain. What a gift!
Art Tatum was born in 1909 and died at only 47 years of age in 1956. He is still considered to be one of the greatest jazz pianists to ever perform and his playing style is still studied and emulated.
The title of this piece comes from this story. "The great stride pianist Fats Waller famously announced one night when Tatum walked into the club where Waller was playing, 'I only play the piano, but tonight God is in the house.'" (John Burnett. "Art Tatum: A Talent Never to Be Duplicated". NPR.) So, here it is – my newest, God Is in the House.