Buttons, Books, and Quilt Shows
It's been quite a while since I sat down to try to capture some thoughts. That indicates that either I haven't been thinking or that everything has been a muddle in my head. Although some might try to tell you that it's the first, I assure you it's been the later! The climate in the world has had me reeling.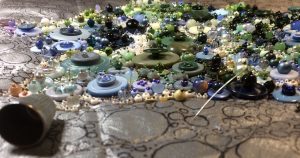 I'm focusing right now on finishing up three projects. I'm working on a button mosaic piece for some lovely people living in Arizona. Truly excited by how it's coming out! I have a due date set for May 31st but I'm hoping to get it done earlier as this year seems to be getting busier by the day. I've signed up for a class in how to make my own buttons and beads but that doesn't happen until September. I need it now!!!! Certain colors are illuding me!!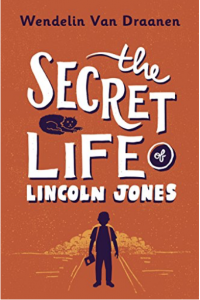 While working on this quilt I've been working on two other quilts as well and the  smallest piece is now complete! A dear friend of mine (Amy) is a librarian at a local elementary school and once a year arranges for several authors to come and speak to the students. As a part of these Author Days, she has a 12″ x 15″ work of art created surrounding an author's particular book title. Historically, these are quilts but some have worked into other artistic expressions. Each author signs a three inch strip at the bottom of the artwork representing their book and Amy then has these beautifully framed and hung around the library. I was lucky enough to create one several years ago for a book by Mac Barnett and I was so honored to have her ask me to again create a piece this year for Wendelin Van Draanen's The Secret Life of Lincoln Jones. This is truly one of the best books I've ever read. I simply love it. I'll deliver the piece to Amy this week and then get to meet the author and hear her speak on April 23rd. Very excited!
The second piece I'm working on is a larger digital piece that I'm working on for the Threads of Resistance challenge. I have all the work done on Photoshop and just received the fabric, etc. that I'll use for printing. I think it will come out! That's the best I can say at this point!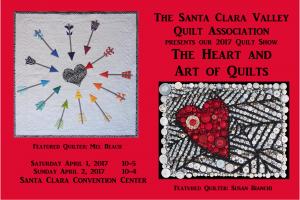 In the rest of my spare time, I'm preparing for our local quilt association's quilt show on April 1st and 2nd at the Santa Clara Convention Center. If you're in the bay area, I hope you will stop in! Mel Beach (a brilliant quilter/teacher/lecturer and I are both the featured artists for the show. Check out the Santa Clara Valley Quilt Association website for information. Also, please click on the link to Mel's blog as she does such a good job of promoting it and giving important details! Hope to see you there!