Anything less than 20 years is gold!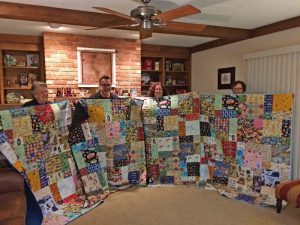 It has been a week for talking to family (biological and chosen), planning trips to see family, and thinking about family. All in all, not a bad occupation! Seems like the perfect time to tell you about a family quilting project.
In September of 2012, I sent my two sisters and my brother an email asking for each of their favorite colors (limit three) and 10-20 one to five word memories of our childhood. I did tell them I had an idea for a project and that it would probably take me about 20 years to complete. The fact that it only took me three years to complete I think of as a huge accomplishment! I made a spreadsheet to keep track of our memories and then started looking around online to see what fabrics were out there that represented some of them.
I ended up drawing some and having Spoonflower reproduce them on fabric, even ended up printing up some fabric of my own, and managed to find fabrics that represented just about all the other collected memories. Some of my favorite finds were vintage fabrics – two Disneyland fabrics and one commemorating the moon landing from an old set of curtains. Only three memories didn't make it into the quilt. Cap guns (no matter how I drew it, it just looked like a gun), kick fights (yes, my older sister and I used to hold on to each other's hair and kick away when angry – but only if Mom wasn't watching), and some glorious, highly unsafe rocking horses my dad made for us that just didn't translate well either. Trying to get those three included would have probably added two years to the project!
I had every intention of making four quilts inspired by either Mike McNamara or Joe Cunningham but in the end, I had too many fabrics to wrap my head around. I ended up going for quick and dirty and decided on a very large Disappearing 9-Patch so that my head wouldn't explode. Each quilt consists of 20 blocks with four different fabrics in each block. I think I only ended up repeating about 4-5 fabrics in the quilt. It was VERY easy. I would make one 9-patch and cut it into fourths. There was one block for each quilt.
We were all together at the beginning of November last year and it was the perfect time to pass them on. Not gorgeous, but so much fun!