Flowers, Bricks, and Boards
A true blogger I'm not as evidenced by my total lack of writing since … oh, let me see… since July. Yep, that just about says it all!
Things have been strange and chaotic recently in the world and with friends. I'm certainly reflecting that personally. I find that I'm bouncing between being absorbed in our strange political situation and escaping a lot into nonsense fiction and TV. However, I have found time to work on some projects.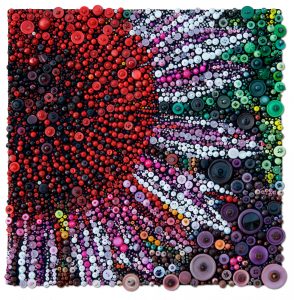 I've finished two small button/bead quilts. The first is called Be Well. As it's a coneflower, I decided to go with a name that reflected it's meaning in the language of flowers. I know it's fairly archaic, but I really do wish people did the research and gave flowers with intent, embracing the meanings. (Although, I think I could do without sending or receiving a withered bouquet to tell someone that the relationship was over.) In any case, I love coneflowers and now love them a little bit more knowing their message is so gently hopeful – just be well.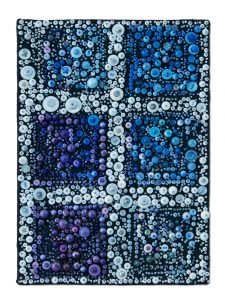 The second little piece Basement Light was inspired by some beautifully colored glass bricks set in the ground to allow light into the basement (the servants' quarters) of the Pittock Mansion in Portland, Oregon. I fell in love with the colors. I'm thinking about doing an expanded version of this one. Just toying with the idea!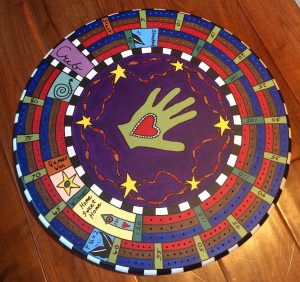 My main project over the last month was a painting project. I made my husband a Lazy Susan cribbage board for his birthday. That took up far more time than I anticipated, but it was fun and, more importantly, it's finished! It's not epic, but it will get a lot of use! Side note, I used an old tracing of our son's hand for the center design. Managed to find some great wooden pegs online and hopefully they'll last longer than the usual plastic ones!
I've spent the rest of my time working on several sewing projects that will go out to various parts of the world hopefully making some people I don't know happy.
All of this while mulling over my next project – so far I've spent 6 days on trying to decide on the orientation – landscape or portrait. Is it any wonder I don't get more done!
I hope you are staying happy and productive!