Prisons, peeling paint, and donation quilts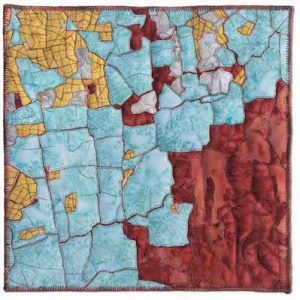 I thought I'd tell you about some of my pieces over the next few months. This is my latest made for the FiberShot challenge and sale at the San Jose Museum of Quilts and Textiles. All donated quilts will be hung in the museum and available for sale beginning on March 11th. It's for a great cause and it's a chance to own some pretty special pieces!
My little piece is entitled Adhesion Failure #1. (The number one was tacked on as I really think I'd like to work on a series and I really love the title!)
The background – My husband and I were on a trip and passed through Mansfield, Ohio and stopped at the Ohio State Reformatory. Not the one still in use, but the one next door that was completed in 1834, housed prisoners throughout the Civil War years, once held a prisoner that wrote under the pseudonym O. Henry, and was finally closed as a functioning prison in 1972. It's now an historic landmark and used for films, music videos, and television shows – most notably, The Shawshank Redemption. Walking through the prison was a little disturbing, but it was interesting seeing what rooms had been converted for the film to the warden's office, the hotel room the men were sent to once released, etc.
What really captured us was room after room of peeling paint and rusted metal – years of historic decorating choices being slowly revealed. I did not realize that there is an actual term for peeling paint – intercoat adhesion failure. Isn't that pretty great?! And now you know how this piece came about! Curt and I came back with loads of pictures and this piece is the beginning of translating some of those photos into quilts! I hope that the future adhesion failure quilts go together as well as this one did! (And I really hope it sells!!!)